New Patient Forms COVID-19 Consent form and office protocols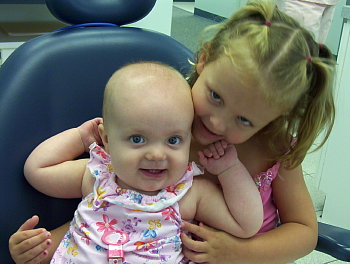 Your child's first visit to the dentist is an important step towards building proper lifelong dental care. You, Dr. Sarah and the dental team can do many things to protect your child from dental disease.
By establishing a dental home at an early age and helping your child to establish good habits through your own example - you can help your child have strong, healthy teeth throughout his life.
You can help prevent tooth decay by starting your child's dental checkups early. It is recommended by AAPD for the first dental visit to occur within six months of eruption of the first tooth and no later than the child's first birthday. Consider your child's first visit as a "well baby checkup" for his teeth.
You can play a large part in preparing your child for their first dental visit. Try to act relaxed and at ease yourself. Your child will sense any anxiety on your part. Tell your child that the dentist will "count" and "take pictures" of his teeth. Do not use any fear provoking words such as "hurt, drill, pull and needle." Avoid statements like "the doctor will not hurt you." (If I say to you, "Do not think of a banana," the first thing you will think of is a banana! It is the same with the word "hurt").
The staff and the doctor will thoroughly explain each of our procedures to your child in terms that he can understand before doing them. Be assured that we will treat your child as gently as we would treat our own. However, some children will cry, as this is a normal response to a strange situation.
At this visit, we will emphasize oral hygiene techniques to be practiced by both you and your child. We will answer any questions you or your child may have. A full examination of the teeth and supporting structures will be done and the occlusion (bite) will be evaluated. Radiographs (x-rays) will be taken as necessary (not routinely) to assure a thorough and comprehensive examination.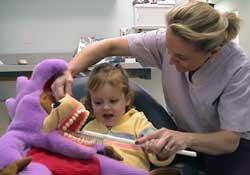 During the visit, the assistant will show you how to properly clean your child's teeth. Dr. Sarah will discuss fluoride needs and recommend oral care products. The doctor will then check for problems, such as early childhood caries and evaluate any adverse habits such as thumb sucking or pacifier use.
If your toddler has never had a dental checkup, explain to the child that Dr. Sarah is a kid friendly dentist who take care of kids teeth. Talk about the visit in a positive, matter-of-fact way, as you would about any important new experience. A visit to the dentist can be a pleasant experience for your child.
For toddlers, Dr. Sarah will gently examine their teeth and gums, checking for decay and other problems. If necessary, your child's teeth are cleaned, or a follow-up appointment may be scheduled.
Dr. Sarah prefers to see young patients in the morning when children are rested and cooperative. Morning appointments are less likely to conflict with mealtimes and naps. Because you are most familiar with your child's habits, you can schedule a time that is comfortable and convenient for you both.
Children's oral health needs differ and our doctor is best able to recommend a schedule of dental checkups. Most children need to be seen on a regular 6 month preventive visit schedule. Some children, however, may need more frequent visits. The frequency of dental examinations and fluoride treatments depends on many factors such as child's eating habits, how clean the teeth are, and whether they drink fluoridated water. These factors can affect a child's overall susceptibility to dental disease.
Preventive dental care like fluoride treatments and sealants, can save time, money and teeth!
For your convenience prior to visiting our office, please click on the link below to print the New Patient Health History Form, complete the information and bring it with you to your first visit.