Office Hours | Dental Care for a Special Child | Calming the Anxious Child
The need for pediatric dentistry in the growing area west of St. Louis influenced Dr. Sarah Smith to open her office in St. Peters. Originally staffed with only two people, the practice now employs eight. Dr. Sarah's office is a great place for kids!
Our support staff has many years of experience. Our team brings together a friendly and compassionate atmosphere so that your child will have a positive experience. Our desire is to make sure that your child will learn the importance of dental health that will last a lifetime.
Our office was specifically designed for our "kid clientele". Beginning in the reception area, there is a two-story playhouse complete with windows and stairs. Colorful pictures decorate the reception area walls while up above an electric train circles a track. Toys, books and puzzles are set out to keep anxious children occupied. With such a fun and playful setting, we hope to make "going to the dentist" an enjoyable experience.
We create an environment in which your child will feel happy and relaxed. The office walls showcase our "Patient Photo Hall of Fame" for your child to see. Children's posters, sports memorabilia, books, magazines and toys continue throughout the office. Kids can even play video games and wear sunglasses while getting their teeth cleaned. Above each dental chair is a hanging mobile to help occupy the child's attention. For patient education, children can practice brushing Dino the Dinosaur's oversized teeth with his giant toothbrush.
Our office also has a safe and sterile environment. We follow all ADA, CDC, HIPPA and OSHA guidelines for infection and privacy control. Additionally, all instruments and hand pieces are autoclaved for sterilization. The office is modern with current technology. For children who need general anesthesia, Dr. Sarah has privileges at Mercy Children's Hospital, Cardinal Glennon Children's Hospital as well as Mid Rivers Surgery Center.
Dr. Sarah wants to provide your child with the highest quality of dental care from toddler to teen. The doctor and the entire staff are completely committed to putting the needs of your child first. Our main goal is to provide excellence in your child's oral health. We believe that a child should receive friendly and compassionate preventative care. We are committed to maintaining open communication while still respecting your privacy. Above all, we want all children, including those with special needs, to have a positive experience at our office. We welcome new patients! If you have any questions, please call or email us for more information.

Please call for an appointment or questions:
Our office phone number: (636) 477-1200
Our office fax number: (636) 410-7674
Patient office hours are by appointment only.
Monday:
Tuesday:
Wednesday:
Thursday:
Friday:
Saturday:

8:40 am to 5:00 pm

12:20 pm to 5:00 pm

8:00 am to 5:00 pm

1:00 pm to 6:00 pm

Hospital hours

8:00 am to 1:00 pm (One Saturday per month during the school year)
We consider your time to be valuable and will make every effort to see you on time. Due to unexpected emergencies, we occasionally do run late. If this should occur, we appreciate your understanding. In the event of a dental emergency, the doctor is available after-hours. Please call the office to receive our emergency number.

Dr. Sarah reassures you that we are all prepared to care for your "special needs" child. She has had several years of advanced training beyond dental school with special needs patients. Her education as a specialist focuses on care for children with special needs. In addition, the office is designed to be physically accessible for special patients.
At our office, your child will benefit from the preventive approach recommended for all children - effective brushing and flossing, moderate snacking and adequate fluoride. Home care takes just minutes a day and prevents needless dental problems. Regular professional cleanings and fluoride treatments are also very beneficial.
All children have special needs. Some "special children" are very susceptible to tooth decay, gum disease or oral trauma. Others require medication or a diet detrimental to good dental health. Still other children have physical difficulty with effective dental habits at home. The good news is dental disease is preventable. If dental care is started early and followed conscientiously, every child can enjoy a beautiful healthy smile!
All of our staff are aware that some children need a little extra support to feel comfortable during a dental treatment. As pediatric dentists, Dr. Sarah has had a comprehensive education in behavior management, sedation and anesthesia techniques. You, along with Dr. Sarah will select a technique based on the specific health needs of your child. She then will discuss with you the benefits, limits and risks (if any) of that particular technique.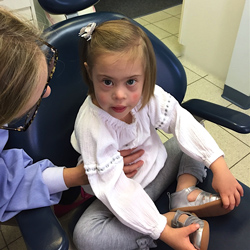 How does our doctor help your child deal with dental anxiety? Dr. Sarah has had special training in helping anxious children feel secure during their dental treatment. The dental office itself is a space designed for children. Our staff members chose to work in a pediatric dental practice because they like working with kids. All of these factors come together thereby reducing stress for your child. Most children that come to our office will be calm, comfortable and confident in the surroundings.
Dr. Sarah uses a "Tell-Show-Do" technique in their daily work. Before a procedure, the doctor will "tell" the child about a dental instrument. Then "show" the instrument and how it is used. For example, by using the explorer to count the child's fingers. Once the child is comfortable, the doctor will then "do" by using the instrument in the child's mouth. This kind of informational dentistry helps the child understand what is happening step by step.
We welcome parents chair side during exams, but feel the doctor-child communication is often enhanced if parents remain in the reception room during treatment visits. Parents are encouraged to check on their child's progress during treatment.
Mild sedation such as nitrous oxide/oxygen is frequently beneficial to an anxious child. Occasionally, general anesthesia is required due to severe anxiety and or extensive treatment needs. Dr. Sarah will discuss all treatment options to help you make an informed decision about your child's care.